Lamborghini Urraco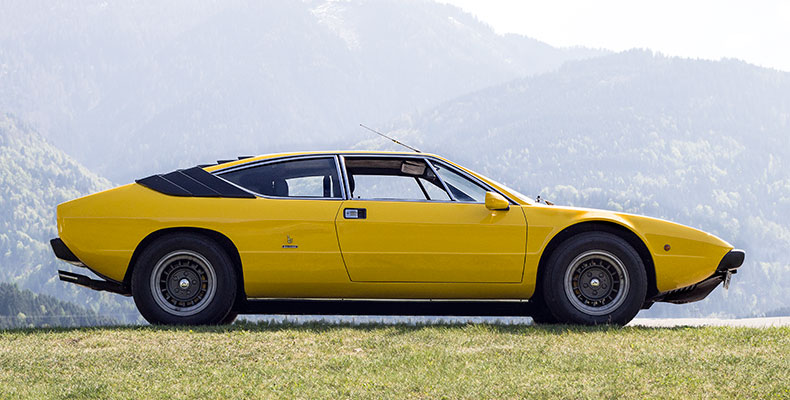 Lamborghini Urraco
Very good condition

Type: Urraco P250
Year: 1973
Engine: V8 cylinder
220 HP, 2500 ccm
Milage: 61,000 KM
Colour: Yellow
Interior: Black leather
Probably the finest sports car built in the 1970s! *

This Lamborghini Urraco is one of the original 520 cars manufactured in the first series and is in very good condition, both technically and visually.
Its powerful V8 engine, with 2.5-litre displacement generates 220 HP.

For aficionados of cars that increase in value.
Produced in extremely limited numbers, this Lamborghini is a perfect investment.
History
The car has belonged to the current owner (the third) for over 40 years, but due to old age, he has now decided to sell. The car has always been registered and regularly driven, especially to different Lamborghini Owner Club meetings. The car is not in perfect condition but extremely well maintained. One imperfection is some damage to the dashboard (see photo). It has of course been garage-maintained and serviced by sports car specialist Alfred Furtner of Ottensheim/Linz.
The car has only been driven 61,000 KM since it left the factory in Sant'Agata Bolognese.
A matching-numbers example. Chassis and engine: #15196.
Particularities
An authentic, original 1970s 8-track cassette player is installed.
The owner is one of the founding members of ILOC (International Lamborghini Owners Club) 1979. He participated in numerous meetings with this car and is commonly known as "Der Gelbe" ("the yellow one") among ILOC members.
Modifications
For better support the car is currently equipped with sports seats, but the original seats are still available (see photo).
This Lamborghini was built for the European market. Only the bumpers have been replaced by rubber-coated ones.
* The masterpiece of Marcello Gandini and probably the most beautiful 2+2 mid-engined sports car. (Source: autorevue.at)
The Urraco (the magpie) – named after the Spanish fighting bulls with black and white colouring – was designed at Bertone by Marcello Gandini. (Source: Wikipedia)